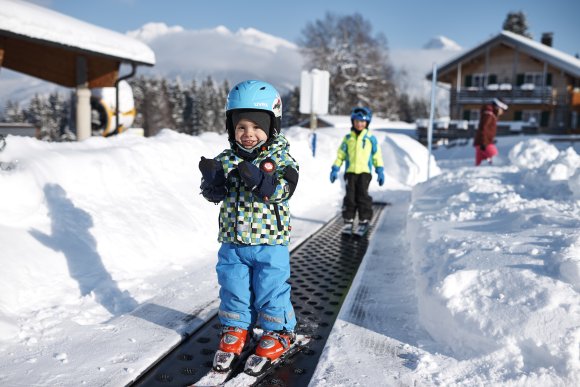 Sölli´s winter world at the Söllereck
Not only the little ones will playfully learn how to ski in Sölli´s winter world. The figure slalom means lots of fun on skis and thanks to one short magic carpet (free of charge) and two longer ones, the first "steps" in the snow will feel like magic for your children. Maybe the popular mascot ´Sölli´ will be there, too, to congratulate you on your first schuss.
Grown up skiing beginners will also enjoy the possibility to practice on a plain terrain and use the magic carpets to master the first ascend.
The ´Wannenköpfle´ t-bar lift is the next step in ski school. And with our beginner day ticket (valid at the Wannenköpfle t-bar lift and in Sölli´s winter world), beginners can save a lot of money and do not have to buy a ticket for the whole ski area right away. There is also a 2- or 3-hour-ticket for beginners.
After skiing, little winter lovers can explore the ´SölliBully´ - a wooden snowcat right next to Sölli´s winter world.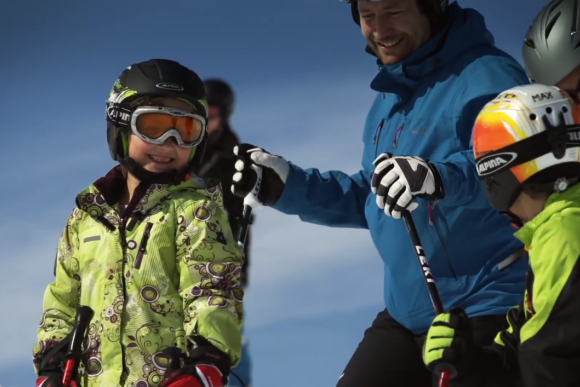 Burmi´s winter world at the Ifen
Two magic carpets and one t-bar lift will take you and your children comfortably uphill in the exercise area. The ´Sport Pauli´ ski rental shop will provide the neccessary equipment right next to the Ifen gondola valley station. With the ´Anfängerkarte Kleinwalsertal´ beginner ticket, you can also save lots of money. It is valid at one t-bar lift of your choice in the Kleinwalsertal and you don´t have to buy a ticket for the whole ski area.
The level terrain is ideal for all beginners and once you managed your first turns at the smaller magic carpet, you can step by step continue to the t-bar lift.
The ´AlpinLodge Auenhütte´ happily fills your empty stomach after skiing and also provides hot beverages in a comfy lounge atmosphere on warming sheep skins.
Of course, the Kleinwalsertal mascot ´Burmi´ does not hibernate like his fellows! This is why you can sometimes meet him in "his" winter world.